I've decided to highlight only significant risks that affect all kids regardless of their region.
Think for a moment: Would you want to shoot your kids if you were given a gun?
No! That's too gory to imagine.
But if care isn't taken, the mobile phone you get your kids could be synonymous with shooting them.
Alright, I know you don't want to.
Therefore, below are five fundamental risks of a child using a mobile phone that you should examine.
And as a bonus, I've included realistic tips on how to protect kids from these risks.
Knowing The 5 Risks of a Child Using a Mobile Phone
1. Depression
There is no denying that mobile phone use and depression are related.
Avid users of electronic devices are twice as depressed, distressed, and unhappy as light users.
Unfortunately, the majority of kids today spend more time with their mobile phones.
And this adds to one of the risks of a child using a mobile phone.
This is how you can control your child's phone usage:
Create time for discussion in your home to allow your kids to share feelings, friends, and hope
Listen more and talk less
Eat a meal together, at least once per day.
Dining time should be screen-free
Don't allow continued access to phones; develop simple rules regarding mobile phone use.
Teach them how to set priority and a simple to-do-list
Set and explain the consequences that follow any inappropriate use of phones.
Lead by example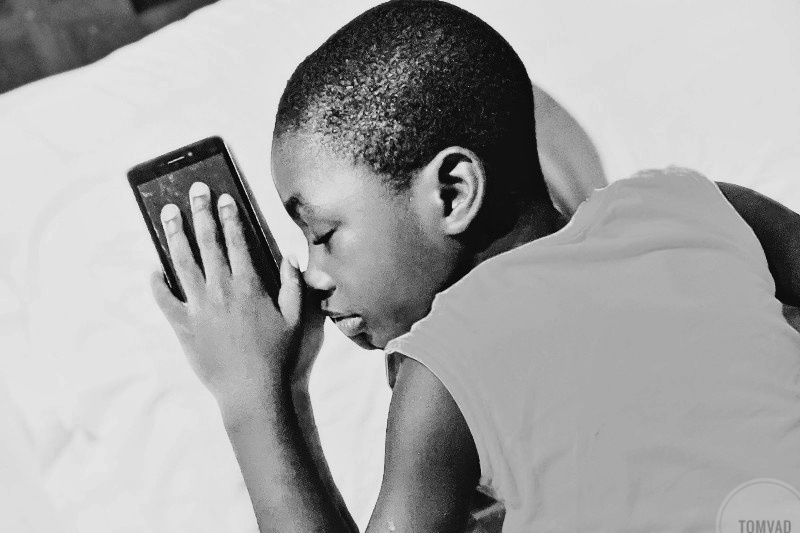 2. Poor Academic Performance
Sleep deprivation, which is due to excessive use of mobile phones can affect your kid's performance at school.
In this year's common sense Media survey, 59% of teens go to bed with their phones.
One-third wakes up to check their phone each night.
As one of the risks of a child using a mobile, can parents' guide against poor academic performance?
Yes!
These are ways to prevent sleep deprivation:
Discuss with your kids the emotional and physical consequences of sleep deprivation
Tell them to turn off their phone and drop on the table, far off the bed
Establish phone curfew in the family.
Give gifts for good performance
Discipline when rules are broken
Also Check How to Improve Child's Performance in school: 11 Guides
3. Oversharing
A recent study reported that 30% of parents post pictures of their children on social media at least once per day.
About 58% do without seeking their kid's permission.
And by the time they are above age 10, their photos and videos online would be more than 1000.
What's it with the stat?
It gives the kids the liberty to share their pictures only without any restrain.
These acts can put your child's physical safety, reputation, and privacy at risk.
With your child's photo on the internet, a cybercriminal can create a fraudulent account anywhere in the world.
But what if you or your kids feel the urge to share their photographs and videos?
This is what you should do:
How do I Stop Oversharing:
Teach moderation
Check security settings on social media accounts and maximize privacy settings to limit views to your friends.
Check the friend's list to be sure that they can all be trusted and wouldn't share your children's photos and videos with another stranger.
Teach the attitude of thinking before sharing. One of the questions is: "will I feel terrible if it gets to strangers?"
Hide details like home address, birth date, uniform, password hints, and financial details from the picture or video.
Share images with trusted friends who visit you at home.
Read Also on how to prepare your child for school resumption
4. Video Game Addiction
Playing games is an excellent way to entertain oneself and build one's intellect.
Children today play online games more than adults.
Thus, they could be exposed to strangers who would use their information.
Of course, you'd have discussed the type of video games appropriate for your kids.
But these are precautions that you can teach them.
These are tips to help your child with video game addiction:
Teach them to set a time frame.
Allow them to incorporate a to-do-list.
Make it inaccessible when it's bedtime.
When setting up an online video game, inform them to use a screen name or first name instead of the real name.
Teach them to concentrate on why they are playing a particular game
Inform them to resist the urge to share personal information with strangers either in voice or text format.
Advise them not to give out phone numbers or any other details.
Allow them to work with this quote, "It's just a game; you don't need to know who I am in real life."
5. Cyberbullying
Drastically, cyberbullying has increased over the past years, from 11.5% to 15.3%.
That shows that the internet space is getting uglier by the day.
With the use of mobile phones, your kids are exposed to it.
Sadly, most parents are contributors to the increase in the cyberbullying of children.
Here is the way out:
Make Cyberbullying discussion regular and sincere in your home
Inform them of a periodic review and check friend list and edit their privacy setting
Create family rules regarding the type of pictures to share, what to write, and details they can share online
Discuss together what is termed as appropriate digital behavior
Research and share a few social media safety guidelines that have been published by trusted websites with them.
Stay current on trends and current slang so you can discuss that with your kids and spot red flags easily
Teach them tolerance, kindness, and how to interact with diverse people
Warning
Don't provoke your kids with rules.
When you tell them what to do, explain why it is vital to do it and the consequences.
If possible, get real-life experiences to buttress your point. And lastly, be consistent.
Final Thoughts
Yes, you can successfully address these risks of a child using a mobile phone discussed above.
As expected, persistence and consistency are needed.
When your kids can see that you hold those values dearly, there wouldn't be a problem adjusting these practical steps analyzed.
Now that you've been armed with the necessary weapon, what can you picture?
Picture yourself with a rifle, having your kids behind you while firing these dangerous threats─digital risks for kids.