Nysc orientation camp isn't a place to go and not enjoy it!
Are you reading this article because you will soon be mobilized? Welcome!
I enjoyed my stay in the camp, and I want the same for you!
Mind you; I camped in one of the worst Camps in Nigeria, yet, my experience was sweet.
I'm willing to reveal to you all that made me enjoy the camp but I'm not doing it alone.
I added fascinating experiences from others who had fun in the camp too.
Also, I added 17 relevant images to give you a clue on how camp life looks like.
So, here below are the 23 exhaustive tips on how to enjoy Nysc Camp!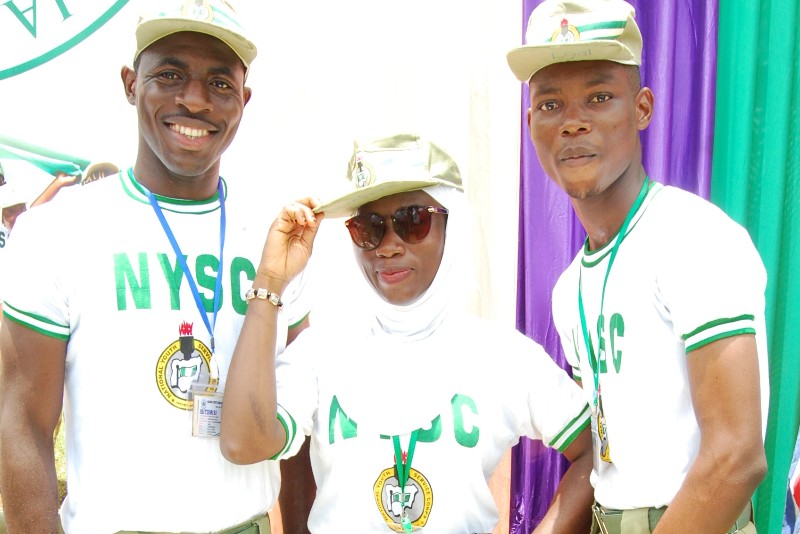 The Comprehensive Tips on How to Enjoy NYSC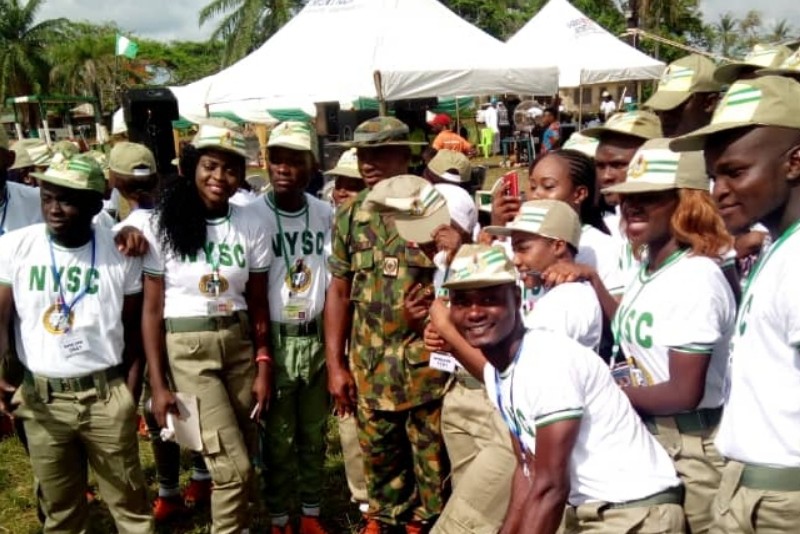 1. At the Gate – Before Stepping in
It is pure fortune if you are mobilized to one of the best NYSC camps in Nigeria.
If you aren't, that isn't a crime; this type of fortunate didn't cross my path too.
Your first experience at the Nysc orientation camp will be at the entrance.
You will see hundreds of youths like yourself.
And you will undeniably spot Police officers, NDLEA officials, NSCDC Corps, Man O' War officials, and Army officers.
Hold on!
If you haven't bought some items or done some printing, get them done before you step in.
All these facilities are available in the Miami Market.
But they are Really Expensive.
Let me relate my first Nysc experience.
Learn from My Mistake!
My Green Card was initially printed out in Black and white ( I used my Dad's Black and White Printer).

On entering, we were all asked to tender our Green Card, but mine was black.

Damn!

What will I do?

I hurriedly thought of stepping out of the camp to get it done.

I wasn't allowed! I was asked to go to the Mami market.

I ran there and told the man I want to print out my Green Card.

He said print out is N1000.

I exclaimed! Then I said, just a copy!

I begged.

But he said that is the ideal charge.

Darling, I had to pay the 1k.

The lesson? The moment you are in, no stepping out.

Tomvad
Hint:
Confirm your stuff first before you enter!
2. At the Entrance- When Entering
This is also an excellent tip on how to enjoy NYSC camp.
Be informed that your luggage will be thoroughly checked, yes, everything.
They will seize any metal, sharp objects, or hard drugs in your possession.
Tips:
Comply with military officers
Unzip your bag before you get to them
Answer each question calmly
After the inspection, the NYSC camp officials will check your Green Card, fitness report, and medical report.
Don't Forget This:
Keep your luggage close as the queue moves.
Bring the required document out of your folder and keep it handy 
Interact with those ahead of you; ask questions.
In some NYSC camps, immediately after the inspection, you will be met by some NCCF crew.
You can identify them via the tags on their neck.
They will offer to help you with your luggage, allow them.
Assuredly, your luggage will be kept safe till you secure a befitting bunk.
What if you aren't a Christian? That's not their concern.
Take advantage of that opportunity.
Ask them questions. Gladly, you will be helped.
I'll share an experience to help you see the importance of asking questions.
My Second Nysc Experience that Explains the Benefit of Asking Questions
After obtaining my hostel tag and the bed, I headed to the hostel.

I saw the name on my tag on the doorpost, but I didn't note the extension behind it.

This happened to others too.

I secured a suitable bunk, laid my bed, and kept my things under the bed.

I went out to relax and get some snacks.

When I returned to the hostel, I couldn't believe my eyes.

I found many beds and luggage outside.

What could have happened?

We later realized that the hostel isn't where we were assigned to.

The hostel is an extension!

If I had asked, this wouldn't have happened.

-Tomvad
Also Read How to Prepare for Nysc Orientation Camp: 12 Great Tips
Securing a bunk before and after registration isn't rigid.
But be observant!
Bunk space is often unlimited, but locating the right place is the key!
When you locate one, lay your bed and head straight for registration.
Tips:
Secure a bunk in a well-ventilated and decent spot.
Have your bed close to the kitchen.
If you want a good first day, do not hesitate to go in the morning.
The moment you are through with your registration, you will be given:
Khaki trousers and jacket
White tops
Crested vest
Two pairs of socks
Shorts (2 pairs),
White sneakers and jungle boots.
Pro Guide:
When you get your khaki, wait around to exchange any gear that doesn't fit you until you get your size for all the items.
If you couldn't exchange your gear, don't be in a hurry to amend it.
Hold on till the next day.
Why? Read this experience:
My Nysc Experience that Explains why You Should Delay Khaki's Adjustment
When I was handed my gear, I was fortunate to exchange jungle boots and sneakers.

But I couldn't exchange my Khaki.

Some tailors met me and asked that I pay N1500, N2000, respectively.

Well, some gave them the money, but I waited.

The next day, someone told me he did his for N300.

That amazed me.

I asked if he could link me up.

He did, and that was how I escaped paying that huge fee.

-Tomvad
When you change to a complete white; you will be threatened by soldiers to head to the parade ground.
So, be calm before you change into white on white.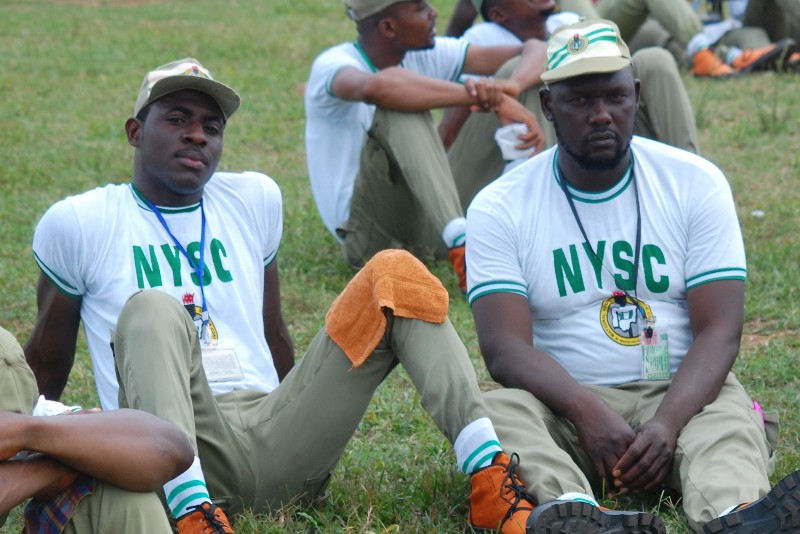 3. Waking Up
By 4:30 am, you are expected to be at the parade ground.
The soldiers would come around with their bugle to wake you up.
If you don't want to have a terrible experience, these are the tips to follow.
Tips:
Sleep very early. Ideally, The Light Out starts by 10:00 pm. Try to sleep at least from 10 pm-4 am, that's 6 hours. It's a luxury if you have this in the NYSC camp.
Fetch water against the next day and keep it under your bunk to avoid theft. When you wake up, quickly take your bath. Before 4:30 am, you'd have dressed up.
4. During Light Out
Light out starts by 10 pm.
Just obey, do away with your mobile phone so you don't get punished by soldiers.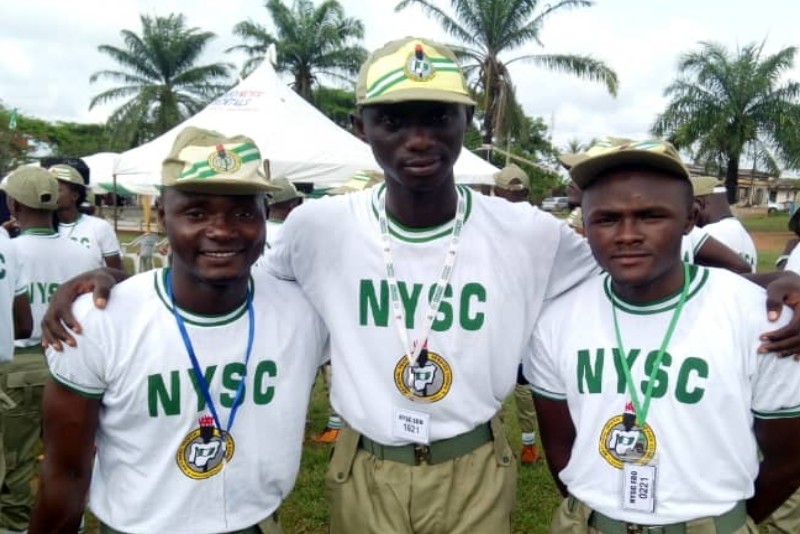 5. Making Friends
You wanted to know how to enjoy nysc camp probably because you wanted to avert boredom.
Trust me, if you wouldn't make friends, be ready for a boring stay.
Make friends with:
Bunk mates
Hall mates
Platoon mates
Group mates
Folks from the same school and town
Military officers.
You can't just be friends with everyone!
Be selective.
How to Identify a good friend in the NYSC Camp:
Does he smile?
Does he interact intellectually?
What can you say about his utterances?
Hint:
The Platoon WhatsApp Group can serve as an excellent clue to identifying a good friend.
Now, what's next? Be involved in camp activities.
6. Get Involved in Camp Activities
This is the column where every fun is attached.
I've included each activity to complement your read on how to enjoy NYSC camp.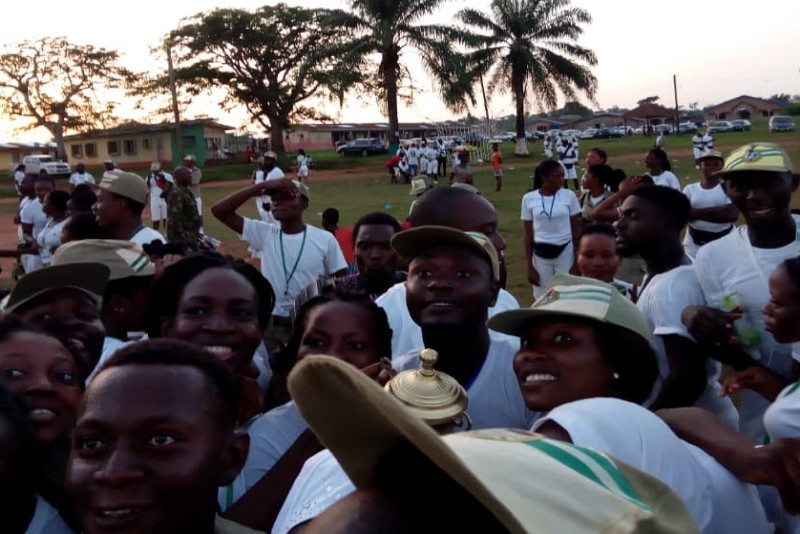 a. Morning Devotion
Each morning begins with a clarion call from a soldier on the bugle.
Then, you will all move to the parade ground.
There you will sing, recite the NYSC anthem, and listen to the write up from one of the platoon leaders.
After that, the Camp Director will address everyone, analyze dos, and don't in the camp.
Tips:
Be familiar with the NYSC anthem so you can escape being a scapegoat.
Always wear your cap the right way.
Listen carefully to what's being said on the parade grade.
Note: Don't be a scapegoat!
b. Parade
This should be one of your favorite times.
That adds to the reason why it is making the list of how to enjoy NYSC Camp.
I'm sure you'd have watched skits from social media platforms where some corps members couldn't master marching steps?
If covered, my marching steps will make you laugh too.
Well, I wasn't among those picked to represent my platoon.
So if you wouldn't make a list too, we are mates. Lol.
Well, during this period, you will find hilarious folks.
Because some people are confused, some will switch hands the wrong way.
Hey, don't be surprised; some still wouldn't synchronize with others.
They would always keep marching even after the commander had stopped.
You will find some great phrases that will ring in your head.
They will keep ringing even one week after the NYSC camp.
If you aren't selected, do these:
Sit back and have fun laughing.
Don't try hard to be picked. It is a relief if you aren't chosen.
Always keep your water bottle close.
Go with chewgum and handkerchief
c. Campfire Night
Sadly, at my camp, this wasn't done!
It is one of the most exciting activities in the camp.
Some even said, "this is one of the corps members' happiest moments in camp."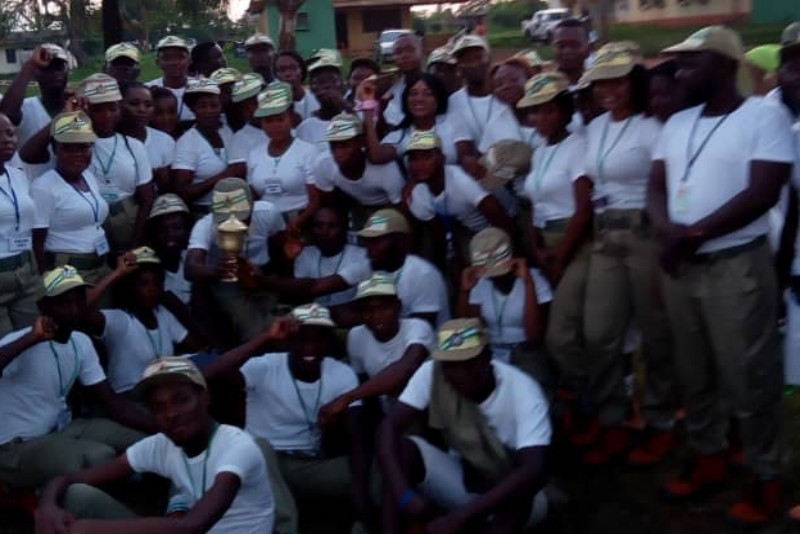 d. SAED
SAED stands for Skill Acquisition and Entrepreneurship Development.
SAED was recently included in the NYSC orientation program for corps members.
This program has helped a lot of corps members develop one tangible skill.
Want to have the best time at SAED?
Tips
If you already have a skill, choose that skill.
If your skill isn't listed, join the one you are passionate about
If you have no expertise, decide which one you want to get involved in beforehand.
Caution:
Don't buy any handbook.
You can if you have verified that the content is valuable.
Make jottings and concentrate.
e. Join a Group
Well, I didn't join any group during my time.
A few myths we heard was that if you join a group, it will influence your posting.
Sad, it didn't influence some of my folks' posting.
Just be a free man and avoid unnecessary commitment.
However, if you join, you will indeed have a rich experience.
Some of the groups include:
Music
OBS Team (Orientation Broadcasting Service)
NYSC Band
Religious Associations
Cultural Groups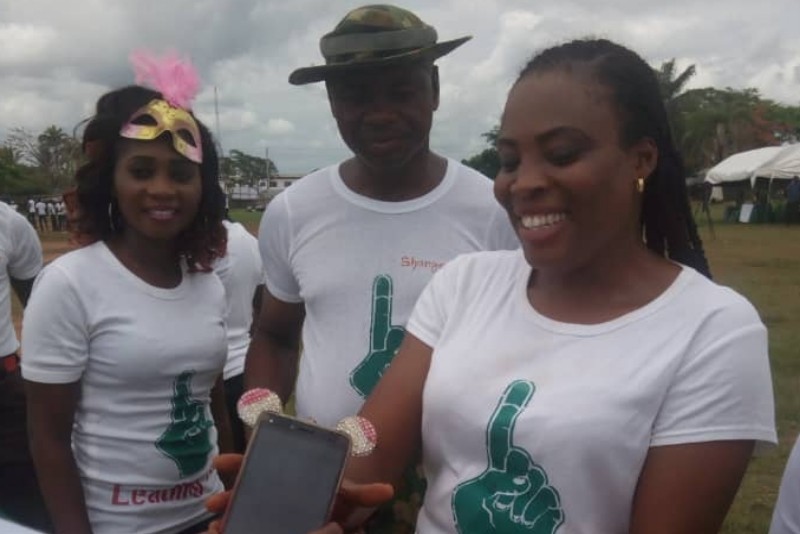 f. Morning Man O' War Drills
These are different from the parade that the military officers handle.
This drill is just pure exercise to keep you fit.
If you are fortunate to have a fantastic instructor, that's a win-win!
For certainty, you will smile a lot.
Man O' War drills often come up after morning devotion.
During that period, you will be exposed to some vulgar and funny songs that will spice up your experience.
Some of these songs include:
Morale! High! Morale High!
Je je je je je we de go o…. Je Je we de go o jeje.
Je je je je je we de go o…. JeJe we de go o jeje.
Tips:
Don't just sit; join then
Practice each drill with great care
Activities Open to Corps Members During Drills:
Ropes Climbing
Crawling under barbed wires
Karate fighting
All these will bring so much excitement.
g. Sanitation
In keeping the Nysc camp clean, sanitation is done platoon by platoon.
Ensure you take part. Why?
One, it is a good thing.
Secondly, there is a gift for the best platoon.
A Nysc Experience for you
My platoon didn't do well on this part. But we did well in the kitchen and other activities. We love food.

Tomvad
h. Breakfast! Lunch! Dinner!
Hey! Do not joke with this.
I went with enough cash ( I'm a freelancer; I also got money from my parents and family friends.
But I made wise use of my resources.
Although, in most cases, I often get there late.
But whenever it's jollof rice and chicken, I can't be late.
Also, Mami was my hotspot for hot water to make tea.
Trust me; it was an experience I am willing to repeat over and over again.
Hint:
Don't assume that the kitchen food is terrible.
After collecting food from the kitchen, I'll head straight to the Mami market to add more food, meat, or soft drink.

Tomvad
Just ensure you enjoy your one hour break.
i. Lectures
Ask anyone, the majority of camp lectures are boring.
Only a few are relevant. Just be prepared!
If you find any boring lecture, do these:
Socialize
Take Pictures
Take a short nap in a coded manner.
Caution
In all sincerity, some of the lectures do not make sense.
But some can be truly life-changing! How will you know?
Tips
The introduction is catchy, captivating, and intriguing.
The speaker is fluent.
The theme is exciting.
The speaker uses real-life experiences.
j. Fellowship
Experiences from others show that the NCF will get you exposed to a lot of things.
You'll sing, act drama, and pray.
If your religion isn't in the Nysc Camp, look for subtle means to meet those you both share the same faith.
You can play one of your songs or use stickers.
How I found a fellow Witness – A Pleasant Experience
I found a fellow Witness on Camp the second day.

This was how it happened:

I love playing music each time I'm in the bathroom.

This didn't change while on camp.

So, the next morning, while heading to take my bath, Instead of playing other regular songs, I played one of our original songs.

And boom, I bumped on a fellow witness!

Tomvad
k. Mami Market
You can enter Nysc Camp with no penny.
But when you get your Bicycle allowance or transportation allowance, buy something, even though little.
You don't want to miss the thrill!
Even if you can't buy, there's still something you can do.
Sit on benches with your friends, buy popcorn, and watch what's happening.
How to have the best time in the Mami market:
Set a budget
Don't overspend
Don't go to Mami market with slippers or muftis
Sit where you can watch movies or listen to the news
Interact with some sellers
Wear your cap correctly
l. Sporting Activities
Do you play football? Go with your soccer boot and jersey.
Play moderately.
If you sustain any injury, you will bear the most significant loss.
If you are a lady and you play volleyball, be prepared too.
Well, since I don't fancy football, you will always find me at the volleyball court.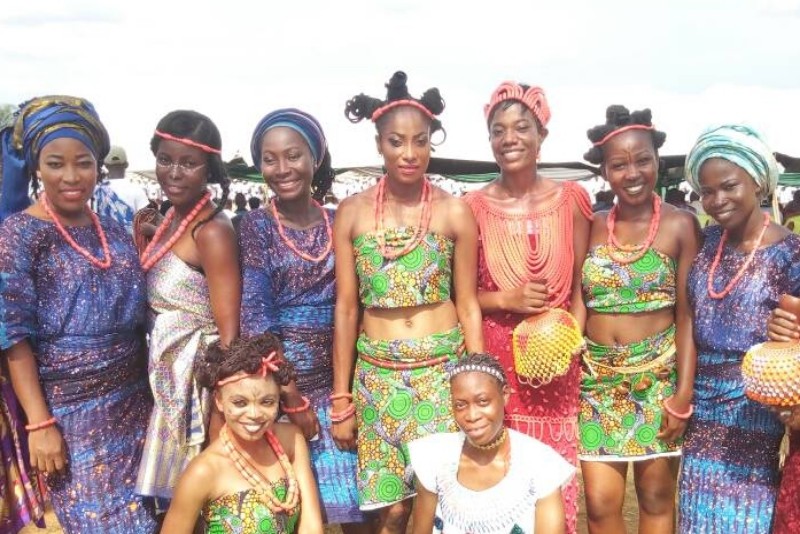 m. Social Activities
Please, don't miss this. "Ah take God beg you."
There are some social nights that you shouldn't miss.
These include:
Mr. Macho: It's fun! If you have the physique, volunteer and represent your platoon.
Miss NYSC: If you are beautiful and bold, don't be reluctant.
Mr and Miss Ankara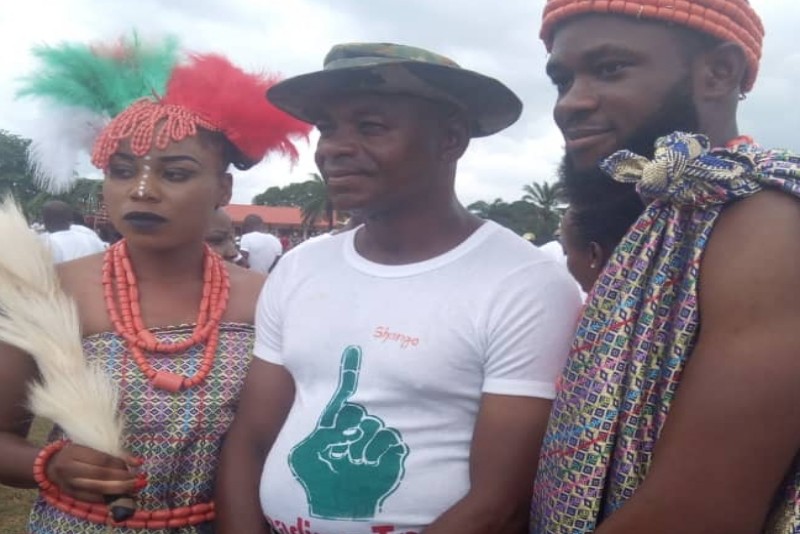 Carnival Day. I was chosen as the king. (Maybe most kings aren't always handsome)
Drama Night: It's one of the nights people laugh out loud.
How to enjoy Social Activities on Camp
Be there on time
Buy popcorn.
If you are bored, stand up and head to bed.
Also Read 10 Incredible Tips on How to be an Organized Person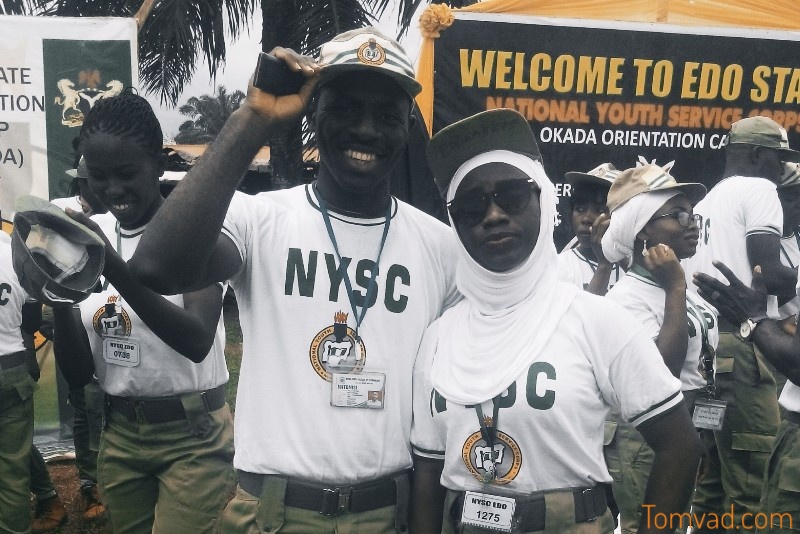 Additional Information on How to Enjoy Nysc Camp
1. What you Can't Do Without on Nysc Camp:
Early morning drill
Lack of proper sleep: You can't avoid it on the last night.
Bugle at 4:30 am
Campfire night. If it's available in your camp
Standing and sitting under the sun
Bathroom Rush Hours: Wake very early, so you don't experience this every day.
2. Names you should get used to:
3. Precautionary Motives
Waist Pouch: Always walk with your waist pouch.
Keep your phones there, and never leave your bunk without it.
If you want to sleep, keep your waist pouch inside your traveling bag and lock it.
Keep the key inside your shorts, socks, or somewhere safe.
Your Luggage: Always padlock your luggage before leaving your bunk and keep the key inside your pouch.
If you want to take your bath, lock your bag, and take the key along to the bathroom.
Some will even drop the key inside the bucket they entered the bathroom with.
OBS: Pay attention to each news from the Orientation Camp broadcasting service.
Fight: On no account should you fight a fellow corps member.
Don't risk your certificate.
If an issue develops between you and a fellow copper, solve the problem without a fist.
Don't Steal: Well, there will be cases of theft in the camp.
But don't be that thief.
Don't Ignore Platoon and Bugle Call: You can if you bribe the line guard or any military personnel.
If you wouldn't bribe, when you hear the call, adhere.
Children Loitering: Be wary of children around, especially if your camp allows them in.
They will comfortably steal your stuff if care isn't taken.
4. Essential Expenses
There are some expenses you can't avoid.
Although the rate at which you use these facilities differ.
You will spend on:
Charging Your Gadgets: Torchlight, phones, and power bank
Hot Water: You will need this if you are camping during the Harmattan period.
Laundry: If you can't wash, then you will spend money on laundry.
You have the guarantee that your clothes will not be stolen.
Photography: This is where it calls for wisdom.
Those cameramen will lure you into snapping more and more pictures.
Snapping a few pictures and having them printed is fine.
But using your phone is a sure way to have fun.
Tip:
Request for soft copies of all your pictures, the price is lesser than hard copies.
When you are outside the camp, print your desired ones.
Bottom line:
Why didn't I list going with a vast amount of money on this list of how to enjoy Nysc camp?
The reality is, You don't have to go with a massive sum of money to enjoy camp.
Go with little, and spend wisely.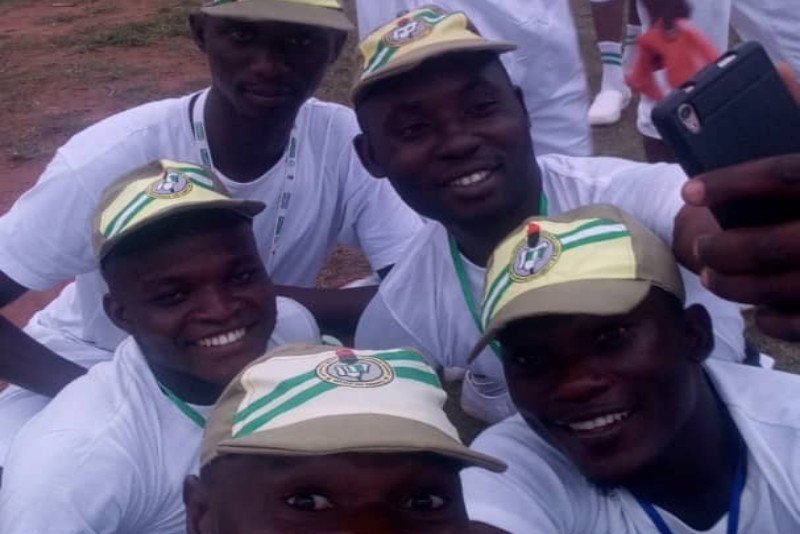 5. On the 20th Day?
This day isn't marked with any strenuous activity.
But why is it making the list of tips on how to enjoy nysc camp?
You will see a lot of people hanging around at the Mami market.
Sellers will bring in Kampala clothes, shirts, and other items.
Since you'd have gotten your first allawee, save part of it.
Use some to make a few purchases.
Just ensure you purchase something worthwhile, an item you'll remember for good.
Also, tidy up your stuff. Sell or dash out some.
What to do
Hang out with friends at the Mami market. Spend reasonably.
Go to Mami only with the fund you desire to spend.
Don't sell all your things unless you know you have the money to repurchase them.
Don't be in a hurry to return to your bed, enjoy your sleep, and submit it when it's daybreak.
Take your birth very early on the last day.
Final Thoughts
Now that you've seen how to enjoy Nysc camp, put what you've read into use.
Like I told you, I had loads of fun and met many exciting friends we still communicate.
Yes, you too can!
Don't fret.
Make sure you prepare and get all the necessary gear and have an excellent time.
All your 21days in the Nysc Camp will surely be interesting and fun.
If you have any idea shared in these tips that aren't listed, let us know in the comment section.
And don't forget to share it with others if you find it worthy.