I'm excited you want the best resumption for your kids.
With many schools resuming amidst Covid-19, parents must adjust to a new preparation pattern.
Of course, children aren't the face of the covid-19. Nonetheless, parents need to be proactive about their child's health.
Why? Since the pandemic started, children represented 17.4% of total cases in the U.S.
In this article, the first 9 resumption preparation tips centered on how to prepare your child for resumption during the Covid-19 pandemic.
Finally, the next 7 points highlight important tips loving parents mustn't neglect as kids resume.
Fasten your seat belt. It's time to examine tips on how to prepare your child for school resumption!
Phase 1: How To Prepare Your Child For School Resumption
1. Investigate What's Happening In The School & Community
You first need to figure out your kids' vulnerabilities in their school.
To do this, check the community you live in or where your children's school is located.
If cases are rising at an explosive rate, it will be unloving to expose your kids to the virus. 
Tips
Call the school's authority for proper verification
Get updates on happenings and cases in your local territory
2. Ensure They Get Immunized
Vaccines train your kids' bodies to identify and fight viruses and bacteria.
As a result, it makes it one of the best levels of protection against serious diseases.
According to CDC, children too can be infected, get sick, and spread covid-19.
Therefore, the Centers for Disease Control and Prevention recommends everyone 12 years and older get vaccinated.
In addition, explore this publication. It highlights "recommended vaccines by Age."
Tips
If there's an immunization going on in your vicinity, take them out
Keep up with both local and national news
3. Educate Them On How To Handle Face masks
Many adults do not know how to handle face masks properly; needless we talk about children.
Therefore, educate your kids on how it should be worn and handled. 
Tips
Practice proper handling with kids
Also Check these online shops to purchase face masks. 
4. Educate Them On How To Hand Wash
Your kids' health matters not to them alone but to the entire family.
Let your kids learn the best way to wash their hands.
Tips
Practice proper handling with kids
Buy them sanitizers
Educate them on how to use hand sanitizers
Also: Check these online stores to purchase hand sanitizers. 
5. Buy More Fruits
Fruits are affordable ways to strengthen your kids' immune system.
Never miss out on that.
If you have the resources, make them eat fruits daily.
If you are on a budget, let them take it three times a week.
Tips
Buy varieties of fruits
Let it be eaten before meals
Add it to the food flask
Visit cheap stores to buy in bulk.
6. Monitor Your Child's Temperature
It's possible to monitor your child's health at home before they resume.
If your child isn't feeling fine before resumption, delay their resumption, and take them for medical treatment.
Each time they return from school, monitor their temperature.
Tips
Keep them at home if they are sick
If they must resume, inform the school authority.
7. Entertain Varying Questions
Your kids, likely as they resume during this pandemic, might have questions for you.
Questions regarding the use of face masks, hand sanitizer, and social distancing.
Attend their questions! Remember, this resumption isn't typical.
Tips
Encourage them to ask any question related to staying safe
Show your kids how safety is practiced and take the lead
8. Encourage Speaking up
Children aren't immune to Covid-19.
Therefore, they have to be informed about things to be on the lookout for.
It might be about their health and that of other kids around them.
Tips
Ask them to speak up when they don't feel well
Ask them to inform the authorities if any of their classmates aren't feeling fine.
Inform them about common symptoms of Covid-19
9. Declutter
Make your children's space ideal for handling assignments and reading.
If you don't have a space in your home, create one.
That space should be distraction-free.
Tips
Make it simple and neat
Let it be comfy and inviting
Let them keep it organized before and after use
Applying all these tips on how to prepare your child for school resumption is timely during Covid-19.
Understand your situation before you load your kids for schools.
Consider your family's health.
Especially if you live with senior citizens or someone with an underlying condition.
Consider what's covered in your health care plan.
If you don't have a primary care physician, please consider getting one.
We've seen how to prepare your child for school resumption during Covid-19.
The following tips are supplementary.
Phase II: School Resumption Tips For Kids
The following four points on how to prepare your child for school resumption should be carried out:
Two weeks, or at a minimum, a week before resumption. 
10. Discuss With Your Spouse
A discussion with your spouse generates combined efforts to make everything ready.
You might inquire from another close family member or a single parent if you need inputs to complete your planning.
Discuss:
Things to buy. (learning materials, school uniforms, new underwears, flasks, and other essential needs)
How to adjust your child's routine.
Adjusting sleeping patterns to blend them well with resumption will be remarkable too.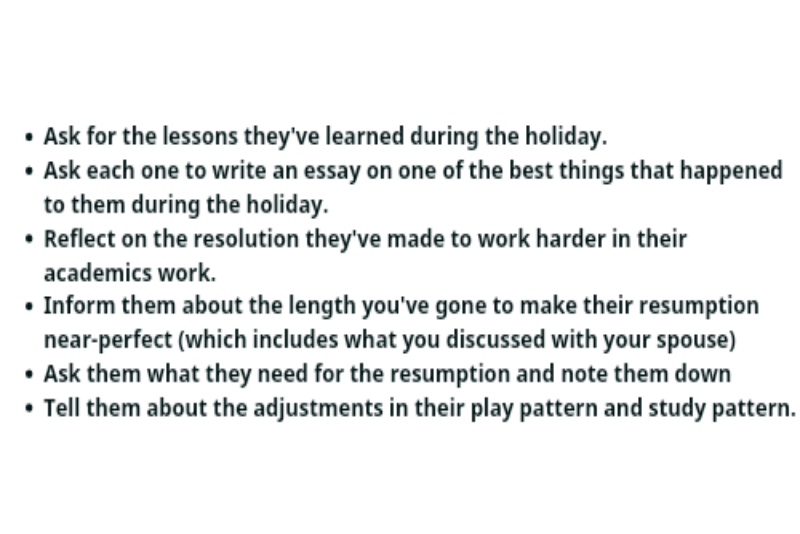 11. Call Your Kids Together
That necessitates a family meeting. Get it spiced up this way:
What to do:
Ask for the lessons they've learned during the holiday
Ask each one to write an essay on one of the best things that happened to them during the holiday.
Reflect on the resolution they've made to work harder in their academics work.
Inform them about the length you've gone to make their resumption near-perfect (which includes what you discussed with your spouse)
Ask them what they need for the resumption and note them down
Tell them about the adjustments in their play pattern and study pattern.
When adjusting their play pattern, allow them to sleep more, study more, and play less.
During the meeting, talk less, listen more.
Also Read on 7 Impressive Benefits of Spending Time with Family
12. Inquire From The School
Some schools might have handed a list containing all that your child needs to resume.
Inquiring again, as one of the tips on preparing your child for school resumption, is excellent.
What to Ask:
If there are any updates on requirements and school policies
If you couldn't meet up with a particular demand, you can avail yourself this opportunity to tell and ask if you can use an intended alternative
If your kids made some complaint, you could discuss that
The flexibility of their extra lessons
The payment plan that the school approves.
13. Organize Your List
What a comprehensive list!
Now you have the combination of four sources:
You, your spouse, your kids, and the school itself.
What's next?
Tips:
Add all together.
Pick a day to make all the purchases. You might need to go with your kids, surely your spouse will need to be there, or a trusted friend.
Go with a realistic budget after noting all that is needed. Make room for miscellaneous if you have the fund.
You can buy in pairs, that saves you cost. But it isn't a must.
Phase 3: Resumption Preparation Tips for Children
These following points on how to prepare your child for school resumption should be effected:
A few days after the resumption
The day of resumption
Weeks after the resumption. 
14. Cross Check And do Some Works
Yes, you've made everything ready.
They've adjusted to the new routine, and the new study habit has reduced their playtime.
But check this.
What to Check:
Check everything you bought
Check their Readiness for school
Leave a note or an artwork on their textbooks, notebook, and assure them, love.
You must address any lapses. Do it tactfully!
15. Resume With Them
So should you now wear a uniform and dress up like you've been offered admission to your kid's school?
If you want the fun, yes, you can. But that's not what resuming with them means.
What it means:
Follow them to school yourself the first day
Drop updated contact details
If there are any medical issues, inform them, and tell them what to do.
Meet your kid's friends
Offer to meet teachers assigned for your kids, and discuss important points with them
Do not seek preferential treatments. Just be sincere and honest with your demands.
Ideally, your request should not be outside what the school stands for.
16. Be in The Process
For the first few weeks, you will need to be part of your kid's curriculum consistently.
Know what they were taught, ask them questions, and help solve a few things if you can.
You can do better with these tips.
How to do it:
Assign them an easy task that will allow them time for their school work
Add to their chores during weekends
Allow them to rest, attend to their assignment first before playing or attending to duties
Always ask them how the day went.
Offer them a hug when they are leaving and coming from school
Buy gadgets that will enhance their knowledge
Buy them candy, milk, and other goodies
Be sure that they are adequately fed.
Make sure that they are always neat.
Help expand their vocabulary and their fluency in English and other languages.
Final Thoughts
It's time to prepare your kids for resumption! Adopt new tips found in this article.
If you do all you can, your kids will enjoy sound health, and your family's wellbeing won't be under attack. 
Moreover, good preparation will result in brilliant results at the end of each session.
Do you know parents that need these tips on "how to prepare your child for school resumption?"
Please, help share it with them. Thank You!